The top 20 POUND FOR POUND boxers in the world for 2012.
We have now entered a new year and look forward to hopefully some real blockbuster bouts from the boxing world. Potentially we could see some real history makers. As we await our first big world title fight of the year, I have complied my own pound for pound top 20 boxers list.
Naturally some will disagree, but I have used my vast boxing knowledge and experience to weigh up the fighters due to skill set, calibre of opponents, fights, victories and longevity.
Here we go….
1. Floyd Mayweather 42-0-0 – 26 Knockouts.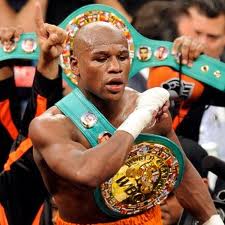 Not just because he is unbeaten. Firstly if you look at the 3 hard fights Marquez gave Pacquiao, then you see the way Mayweather eased past Marquez winning every round. Likewise with Shane Moseley who has more then made his mark on opponents in the boxing world. Some say "who has he fought"? But in addition to the two already mentioned, if you add the likes of Oscar De La Hoya, Ricky Hatton, Zab Judah, Diego Corrales, Arturo Gatti and Victor Ortiz to the list. Then you hear only De La Hoya has been close to making a dent, then you can understand why he is first.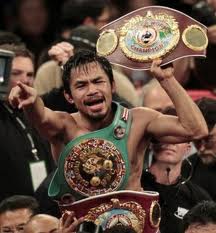 2. Manny Pacquiao 54-3-2 – 38 Knockouts
Manny was just edged into second place. Although he has marvelled and defied the odds on the way to becoming the first 8 division world champion, his last encounter ended in controversy. Many say (including me) he actually lost to Marquez and that will hurt him considering after 3 bouts none have been convincing. Still, with his recent history and the way more or less everyone have fallen before him he is a close second.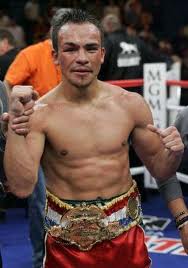 3. Juan Manuel Marquez 53-6-1 – 39 Knockouts
In my humble opinion he has beaten Pacquiao twice. After the Mayweather fight everyone thought he was done, but the way he came back first with a comfortable unanimous win against Juan Diaz, then taking out Katsidis justified his high position on this list. He should have been celebrating a famous win over Pacquiao but the record books will show otherwise. He is an expert counter puncher and very accomplished at adjusting to his opponents. Marquez will always be a fan favourite as he always comes to fight.
4. Sergio Martinez 48-2-2 – 27 Knockouts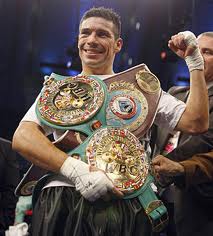 For me he just held on to the 4rd place spot. Even though he has been on somewhat of a role recently, his 11th round stoppage of unknown Darren Barker could have been a bit more impressive. Though his recent stoppages of previously unbeaten Dzinziruk, and the classic knock out of Paul Williams getting revenge for a controversial points defeat, were more than impressive. The win against previous middleweight surprise package Kelly Pavlik set him on his way, but he is still searching for that defining fight.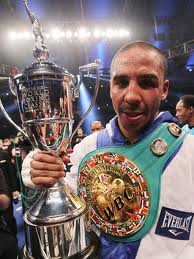 5. Andre Ward 25-0-0 – 13 Knockouts
Even though he has only had half the fights compared to the rest in the top ten of this list, it's the way he has dominated all in his path that has forced me to put him 5th position. He barely lost a round in his last 5 super six fights, formidable record for any fighter. He has a similar style to Mayweather where he has fast hands with counter punches and is difficult to hit. On that style alone he could be undefeated for a very long time.
6. Wladamir Klitschko 56-3-0 – 49 Knockouts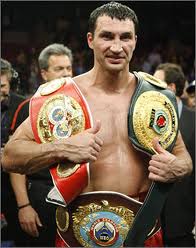 Even though most of his success is due to his formidable size, the younger of the brothers is a jab machine. Since the last of his 3 defeats in 2004, he has dominated the 14 fights since and has never looked in trouble. Many say the heavyweight division is not what is used to be but Klitschko can only beat what is in front of him. To his credit he has done that with ease. He will also always be known as the man that retired David Haye, well until Haye returns.
7. Vitali Klitschko 43-2-0 – 40 Knockouts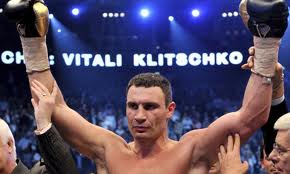 To most he is further down the pecking order but I can't really split them. The general consensus is that Wladamir is the better boxer but Vitali has the better chin and hits harder. He has 14 less fights then his younger brother but 1 more knockout. He proved in the past he can brawl and did again with his recent victory against the Tomasz Ademek. At 40 I doubt he will have many more bouts.
8. Nonito Donaire 27-1-0 – 18 Knockouts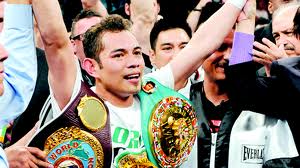 This Pilipino firecracker has made a speciality out of stopping opponents. If it wasn't for his last fight, a relatively boring affair he won on points, he could have been higher on this list, maybe. Previous to this, his last four fights totalled only 17 rounds. Two were title defences which were only his 2nd and 3rd at bantamweight and supposedly his toughest yet, but they ended in the 2nd and 4th rounds respectively. Soon he aims to move to featherweight where he can secure some real marquee bouts.
9 Timothy Bradley 28-0-0 – 12 Knockouts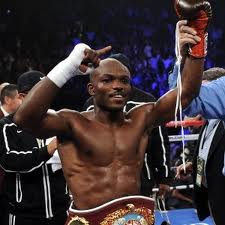 Bradley is one of the best pressure fighters in the business, he's style is to grind you down and never give you any space to breath. Although not a knockout artist he is a strong well rounded fighter. Still undefeated, but he may be kicking himself that he didn't take a Khan fight now that Peterson, who he has already defeated claimed a victory. Nevertheless he does have some decent scalps. Along with Peterson, Junior Witter, Kendall Holt, Devon Alexander and Joel Casamayor have all succumbed to his pressure. Needs to stay active though.
10. Pongsaklek Wonjongkam 83-3-2 – 45 Knockouts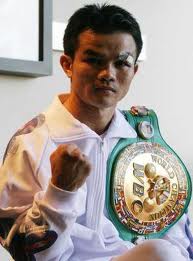 Many may well be unfamiliar with this flyweight, but you cant really count out a guy that has had 80 plus professional fights and is still standing as a champion. Credited a lot could have been meaningless bouts in the far corners of the world, most notibly Thiland but he is 22-1-2 in title fights and continues to fight at a very regular rate. Having 7 fights in 2011 he continues to rack up the wins and write his name into the record books. Though the wear and tear of 80 odd bouts could just be catching up, he remains the top dog of the flyweight division.
11. Miguel Cotto 37-2-0 – 30 Knockouts
Still a beast, still got skills, still strong and still a hard puncher. Only lost to Pacqiuao and controversially to Margarito for which he recently got his revenge. He still needs that one big fight win against a top name to really cement his place in boxing history though.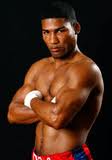 12. Yuriorkis Gamboa 21-0-0 – 17 Knockouts
This Cuban is a devastating puncher, he has raw speed and power almost unmatched in the sport today. He is very early in his career and clearly has alot to learn but is already a former featherweight champion only being stripped of his title recently.
13. Amir Khan 26-2-0 – 18 Knockouts
His controversial 2nd loss to Lamont Peterson has certainly hurt his reputation, though Khan certainly has the skills to be even greater than he is already. He has youth on his side and is young enough to get back amongst the very best in the business.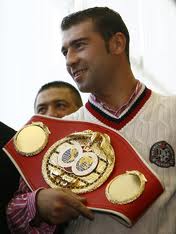 14. Lucian Bute 30-0-0 – 24 Knockouts
Some may raise eyebrows at how low this undefeated super middleweight champion is ranked. Bute does possess undoubted skills, but the names on his record are not overly impressive. A pending bout with Andre Ward will provide an accurate assessment.
15 Bernard Hopkins 52-5-2-2 – 18 Knockouts
The wily old fox is still there, and still going strong at the ripe old age of 46. He is still a factor in boxing and is still contesting title fights. He's experience can never be taken lightly, as the veteran of the 12 rounder continues to defy the odds and upset the younger figters time and time again.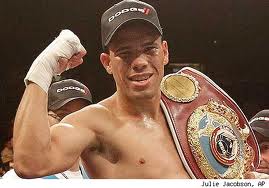 16. Juan Manuel Lopez 31-1-0 – 28 Knockouts
Lopez is another devastating puncher who was undefeated until he shockingly lost to Orlando Salido in April. A former bantamweight title holder with 5 defences until he moved to featherweight and won the title defending it twice before his defeat. He will hope to avenge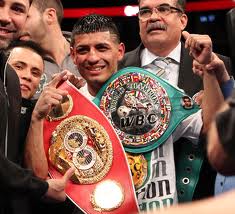 that with a rematch this year.
17. Abner Mares 22-0-1 – 13 Knockouts
This tough young Mexican came through the Bantamweight version of the super 6 tournament as the winner. He out toughed two former champions in Joseph Aggreko (twice) and former flyweight top dog Vic Darchinyan to emerge as a two belt title holder and the new bantamweight king.
18. Chad Dawson 30-1-1-2 – 17 Knockouts
Dawson has been threatening to break through as a marquee fighter for sometime but is still just a bit short. After twice beating Glen Johnson and Antonio Tarver he lost to Jean Pascal. He was expecting to end Hopkins rise but that ended in the 2nd round when Hopkins got injured. He feels he can and needs to begin a new chapter with the rematch.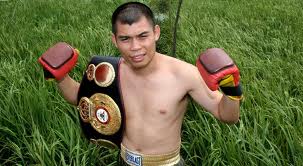 19. Chris John 46-0-2 – 22 Knockouts
This is a slick, durable, all action undefeated featherweight who has made 15 defences of his WBA title. He is so low on this list as he is notorious for not travelling out of Indonesia. Only 7 of his 46 fights has been out of his country. Defeated Marquez in 2006 though.
20. Carl Froch 28-2-0 – 20 Knockouts
He just came up short in the super six final, but he has more then proved himself before that with some bruising encounters against the likes of Jean Pascal, Jermain Taylor, Glenn Johnson, Andre Dirrell and Arthur Abraham. But at 34 and following a few hard fights he may just be on the slide. Still has alot to offer the super middleweight division though.
Related posts: